Painting is not only an image that is made by applying colors over media, but it's a piece of art, capable of gaining your attention and making you feel thousands of emotions. There are different types of paintings that can be seen easily but when it comes to portrait painting it becomes more interesting. Of Course who doesn't love to see his/her portrait painting.
Portrait painting is The Best good gift to show your love to your loving ones. It may surprise them and make them smile at the same time.
There are different types of portrait paintings available to choose from. If you are planning to give someone his/ her portrait, this article definitely helps you to choose the correct one.
Pencil Portrait on Paper
Pencil sketches are the least expensive portraits when it comes to the cost of painting. It needs less time to get completed as compared to the other mediums but an artist can spend a ton of time creating photorealistic black and white portraits just by using different shades of pencils. A4 and A3 paper sizes are generally asked people to sketch on. You can frame it in wooden or synthetic frames to give it a nice clean look. 
Colored pencils portraits are also an option for those who don't like black and white portraits. Good quality color pencils are a little bit expensive, which is why Color pencil portraits cost a little higher as compared to the graphite pencil portraits.
Pros of Pencil Portraits
Cost of sketch is very less as compared to other mediums. Anyone can think of it if he has a very tight budget of around Rs. 1000-3500. You can contact "Artixcel" for your portrait order.
Very handy to transport it from one place to another.
Simple frames also look better with it. It can also be laminated.
It is quite durable and doesn't need any extra maintenance.
Can be completed within 2-3 days.
---
Soft Pastel Portraits
Soft pastel is a versatile and fun medium resulting in very catchy portraits. These portraits are generally made on paper like pastel sheet brown paper etc. It is basically a good quality chalk like colour pigments hence additional material like fixer is required to bound pigments properly with paper or canvas. Its cost is higher than the pencil portraits.
Pros of Soft Pastels Portraits
It requires less time to get completed.
Give a nice vibrant effect to the portrait.
Abstract and realistic both types of work can be done.
The cost is affordable but slightly higher than pencil portraits.
---
Watercolour Portraits
Watercolour portraits are a very good gift for your loving ones. Its cost is somewhat similar to soft pastel portraits but can be completed in very less time as compared to the pencil or pastel portraits. These are made on different paper like handmade sheets or rice paper. It looks really great when properly framed.
Abstract and realistic both types of work can be done in this medium.
Pros of watercolour Portraits
Can be completed in 2-3 days only.
Good to transport from one place to another.
Less expensive as compared to oil and acrylic medium.
---
Acrylic colour Portraits
If you can afford a little high budget then acrylic color portraits are a very good option to choose from.
It can be done on canvas and paper as well. Acrylic portraits are normally abstract or semi realistic but look very good after completion. It is one of the expensive mediums but it is less expensive as compared to oil colour portraits. It takes a decent amount of time to get good results. Normally 7 to 10 days are good enough to paint a portrait in acrylic medium.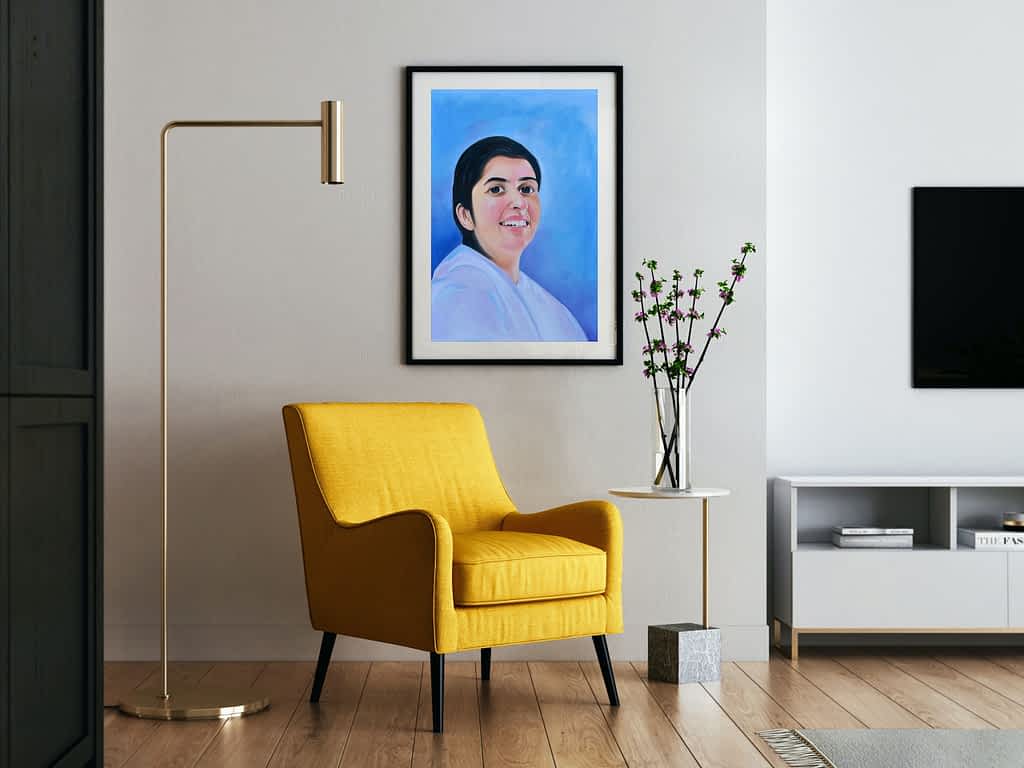 Cons of Acrylic Colour Portraits
Good for hanging on wall.
No compulsion of framing.
Good for transporting from one place to another.
Requires less maintenance.
Damage can be restored easily.
---
Oil colour Portraits
If budget is not a problem you should definitely go for oil colour portraits. It can be the best portrait gift any one can think of. High realism, even photorealism can be done with this medium. Oil colour takes time to dry and artists work on a layer by layer process. Hence it takes much higher time as compared to any other medium.
Pros of Oil Colour Portraits
High realism can be achieve.
Easy to transport.
No compulsion of framing.
Good for hanging on the wall.
High durability.
Damage restoration can be done easily.
Good for any size: large, small or medium.
If you are looking for the best portrait artist then you should definitely visit www.artixcel.in. Here you can find the best artist for any budget.